diy Learning Space Projects
Teachers have been doing diy (do it yourself) classrooms since the beginning of classrooms. What we are featuring here at GROUPWERK™ is the concept of teachers bringing home and office furniture into their K-12 classrooms. This includes removing much of the 10-30 year old standard desks and chairs for every student. It also removes the uniformity of design and function from everybody in rows or set clusters of assigned seating. Teachers craft diy learning spaces by often spending their own money or fund-raising to create an eclectic learning environment for their students. This diy spirit models the collaborative work environment common in many 21st century businesses combined with the cozy furniture and meeting spaces found at Starbucks and local coffee houses.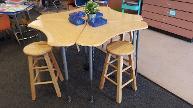 K-3 Sit Stand Student Desks using existing student sit desk
Adapting an existing classroom sitting table or desk to a sit stand option

typically works for K-3 sized students only. For young students, the sitting tables adjustable legs are tall enough to go to 30" - 33" and at that height this now can become a standing table. Read more...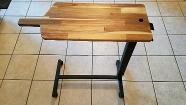 IKEA Hack:
Medical Overbed To Student Standing Table

My father had one of these "Medical Overbed Tables" when he was convalescing at home. I found it later in a storage shed and asked my mom if I could have it. I took it home, spray painted the whole thing black, and in honor of my father, christened it, "Bud's Barbecue Buddy." I used the pneumatic adjustable height table as part of my barbecue gear in laying out food, before and after grilling. Unfortunately, I left it out in the rain several times and the particleboard laminate top started to buckle. So, I came up with a new idea that I think my dad would have liked very much.
Read more...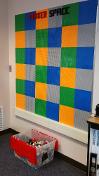 Lego Wall in a MakerSpace
Here is an idea I first got from Chip and Joanna Gaines from their show
Fixer Upper - The Barn House Episode
. In one of the rooms, Joanna builds a lego wall in a child's bedroom using gray 10"x10" Lego plates. My daughter, Shawna McIntosh and Rodger Ashworth both thought this was a great idea for us to build a similar lego wall.
Read more...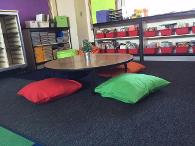 Adapted Round Activity Table to a 'Low Table'
In the example here, we used a round activity table where we have simply taken off the adjustable legs. Add some durable soft pillows and you have a traditional Japanese style table in your classroom.
Read more...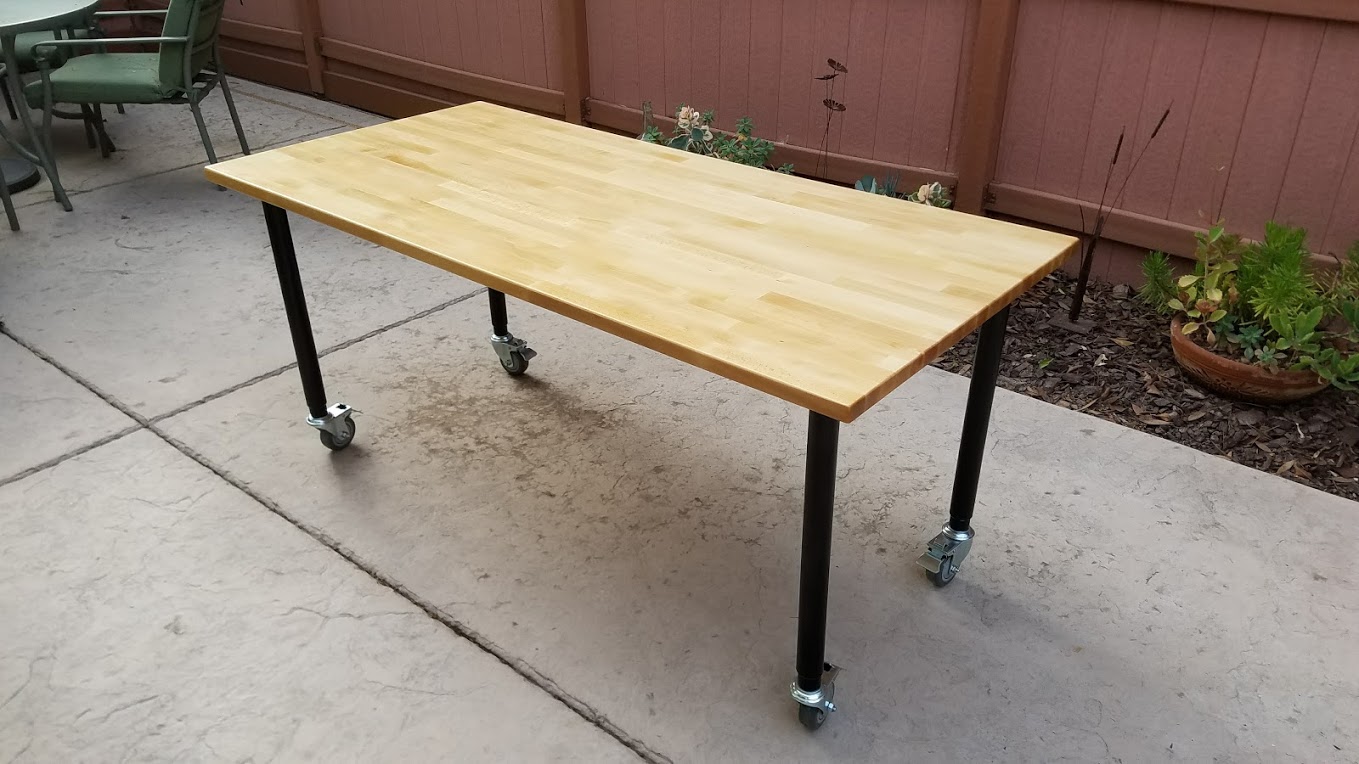 IKEA Hack:
Elementary Makerspace Butcher
Block Table w/ Casters
Here is an IKEA hack using Service Caster Corporation heavy duty casters with an IKEA butcher block table and adjustable legs.
Read more...
IKEA Hack:
Couch on Casters
Here is an idea I've had for a long time. I've always wanted to put heavy duty casters on a couch for a classroom and an opportunity finally presented itself. About 7 years ago, I helped Washington Elementary in San Diego create cozy furniture spaces in their library and several model classrooms. I'm back this year to help the school again and found one of the red IKEA Klippan couches (that I had previously ordered) hanging out in a hallway with all of the legs missing.
Read more...

© 2009-2019 DG McIntosh. All rights reserved.
No part of this publication may be reproduced, distributed or transmitted in any form or by any means, including photocopying, recording, or other electronic or mechanical methods, without the prior written permission of the publisher, except in the case of brief quotations embodied in critical reviews and certain other noncommercial uses permitted by copyright law. For permission requests, write to the publisher, addressed "Attention: Permissions Coordinator,"
at the address below.
DG McIntosh Publishing
Skinner Building
1326 Fifth Avenue | Suite 438
Seattle, WA 98101