Mobile & Modular Furniture & Technology
To flex minds, we need to flex classroom space.
Classrooms of the 2020's need non-traditional eclectic designs to create a positive learning environment. The key to indoor learning space design combines
a s
tudent's need to fidget, rock, swivel, stretch, and stand with mobile and modular
furniture and technology
. Subtle self-movement and weight transfer keeps our brains stimulated and helps prevent mental fatigue within a contained space. It's really simple, physical
movement sparks the mind to enhance one's motivation, engagement, and creativity that open paths for learning.
This mobile and modular (or "mobimod") guide is curated by Doug McIntosh and is fashioned after Flexible Physical Space Design that embodies the pedagogical change from teacher-centered learning to student-centered learning.
Here, the physical learning space itself plays a key role in our students mental and physical well-being and becomes embedded with a school's overall social and emotional learning plans. Traditional learning spaces designed with a singular purpose are transformed to multi-purpose learning spaces. This transformation from 20th-century to 21st-century learning spaces uses a new lexicon to describe the metamorphosis from: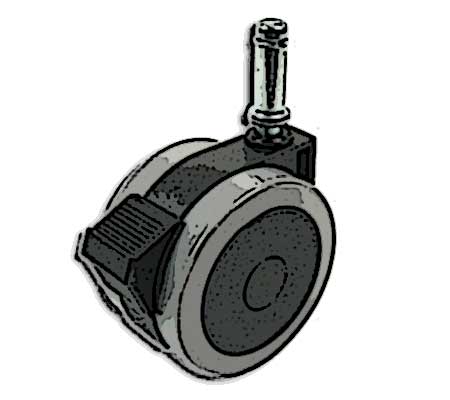 The caster wheel as a game changer
within learning spaces
A face-to-face flexible learning space utilizes five essential types of furniture and technology to enhance student motivation, engagement, and creativity.
1. Seating and Movement
Sitting with subtle movement while working independently or in groups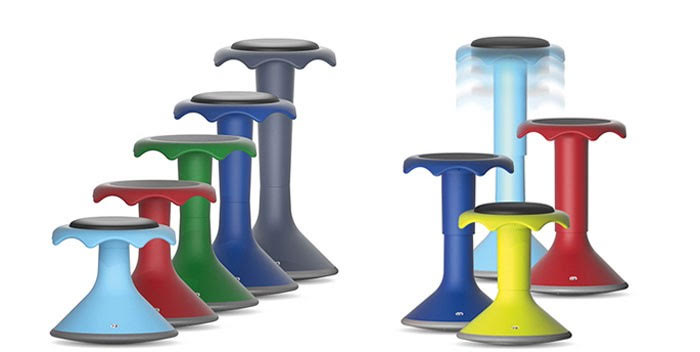 Wobble Stool
(VS Hokki) Fixed-Height:
12, 15, 17, 18, 20, and 24
(VS Hokki+) Adjustable-Height:
5-19" and 19-26"
Rocker Chair
(Mooreco Hierarchy)
Chair Sizes:
14, 16, 18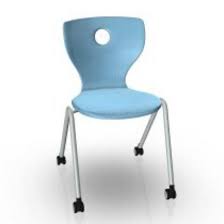 4-Legged Stacking Chair
(VS Campus-Lupo)
Chair Sizes: 12,13,15,17,18,20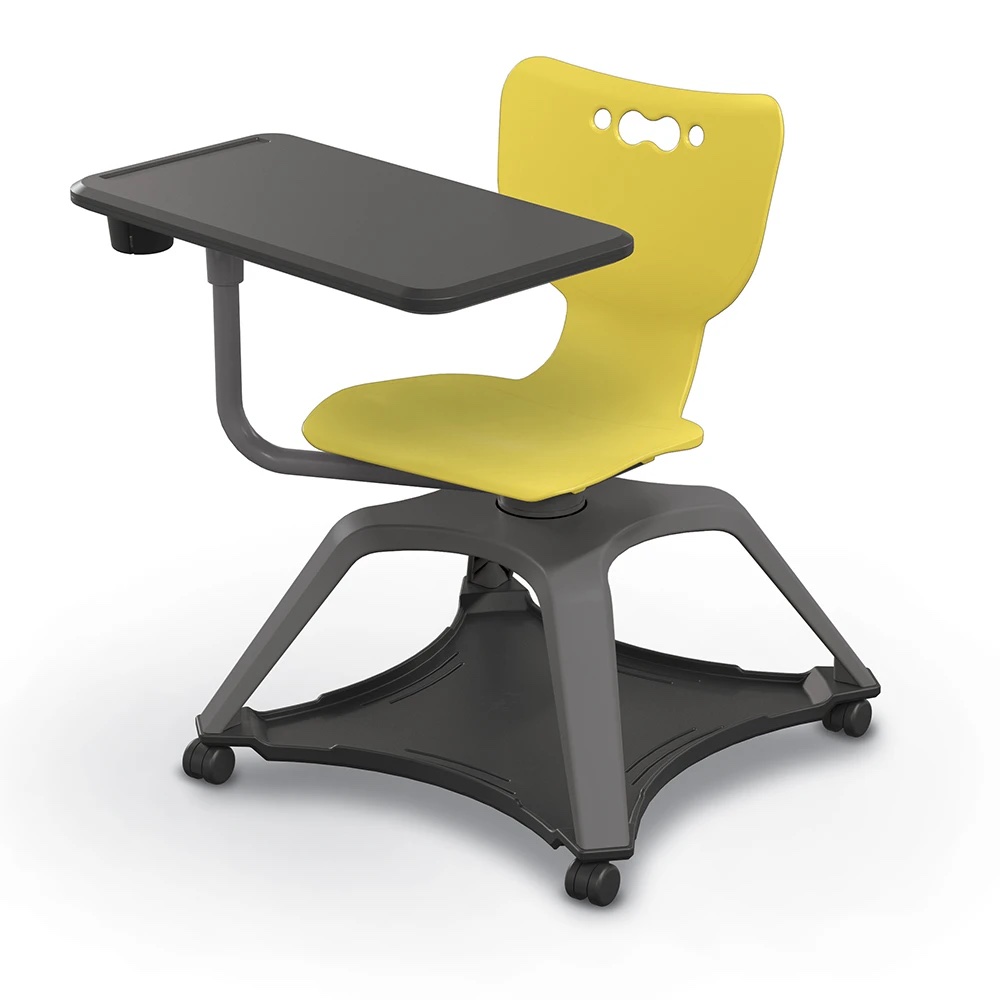 Mobile Tablet Arm Chair
(Mooreco Hierarchy)
Size: 18
Note - There are two types of casters:
1) Hard Casters - are for soft flooring - carpet or area rugs
2) Soft Casters - are for hard flooring - tile or treated concrete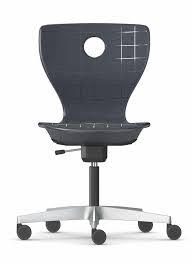 Pneumatic Task Chair
(VS PantoMove-Lupo)
w/ 3D Rocker Mechanism
Height Adjustments:
"The VS PantoMove-Lupo
is the chair king of rock 'n' roll."
–Doug McIntosh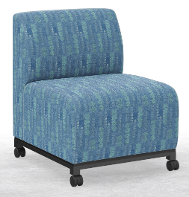 Single Lounge Chair
w/casters
(National Swift)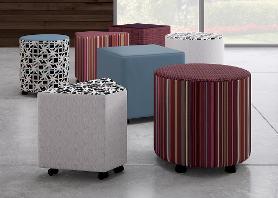 Soft Shape Seating
w/casters
(National Whimsy)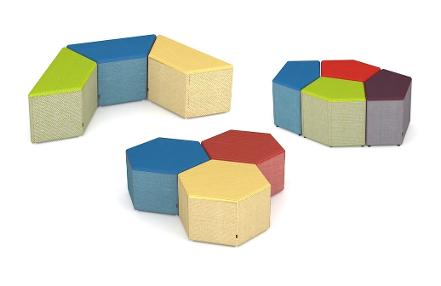 Floor Soft Shape Seating
(Paragon Blender)
2.
Modular Sitting Tables

Sitting at shaped tables that optimize space while working in groups or independently
2a.) Flip and Nest Tables
The combination of using the rectangular tables and half-round tables together or separately in various configurations
is the very definition of 'flexible furniture,' not to mention the ultimate space saver when the learning space needs to be
reconfigured.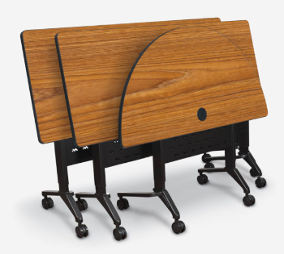 Flip and Nest
24 x 60" Rectangle
24 x 48" Half-round Tables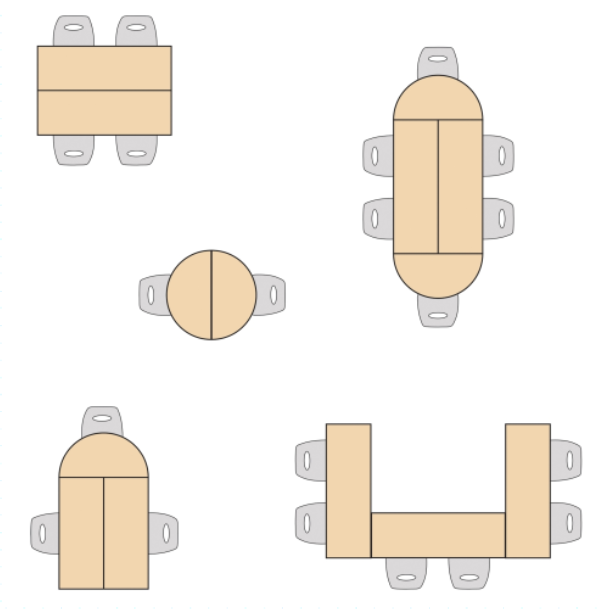 Flip and Nest Tables Configurations
2b.) Triangular Shape Desk and Table
The essential shape desk for designing classrooms where students can work together in collaborative groups or be
spaced individually from each other.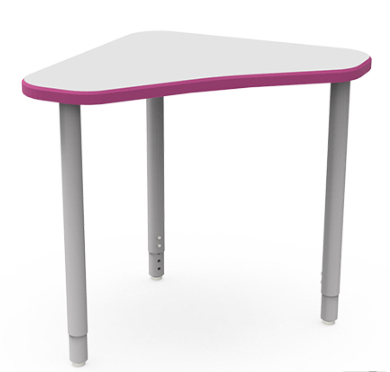 Triangular Shape Desk
(WB ELO Connect 4 Desk)
Desk Size: 24 x 36"
Sit to Stand Pin Adjustable Legs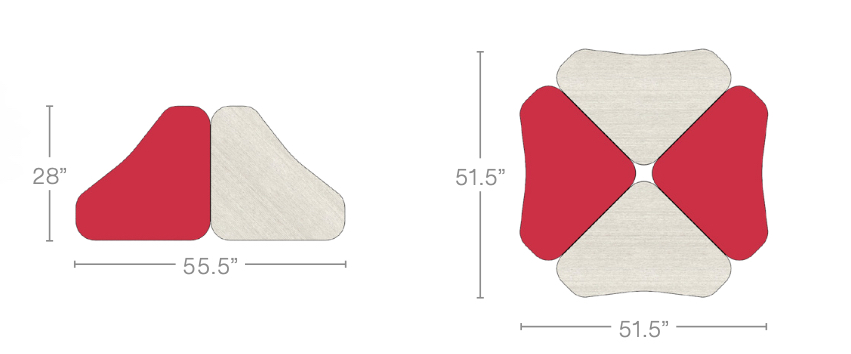 WB ELO Connect 4
Collaborative Configurations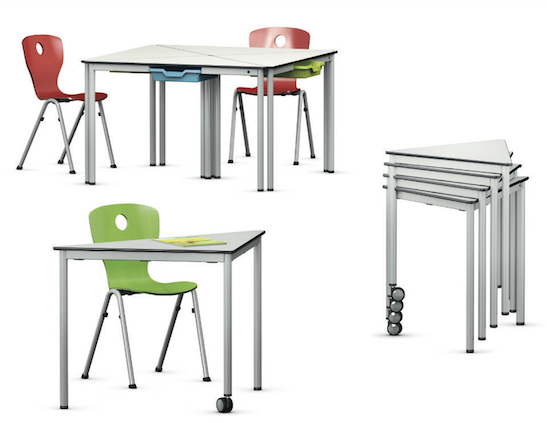 Triangular Shape Table
(VS TriTable-III)
3 sizes: 43x31x31, 46x33x33, and 47x35x35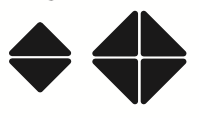 VS TriTable-III
Collaborative Configurations
3. Sit to Stand Tables and Movement
Having a standing option to weight-transfer while working independently or in groups
3a.) Self-Height Adjustable Pneumatic Lever Mechanism Under Table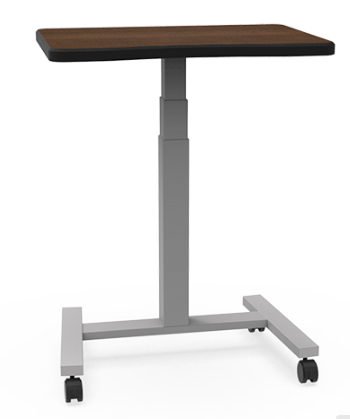 Self-Adjusting Height Pneumatic Lever
(WB Elevate Plymouth II )
Table Top: 20 x 28.5"
2 Bases - Overall Heights:
26.09 - 36.13" and 29.94 - 42.94"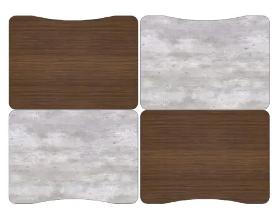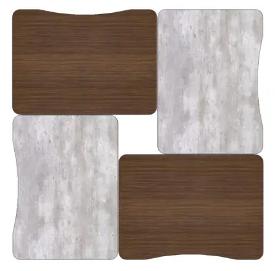 Collaborative Configurations
3.b) Mobile Self-Height Adjustable Presentation Stations (w/ Pneumatic Lever)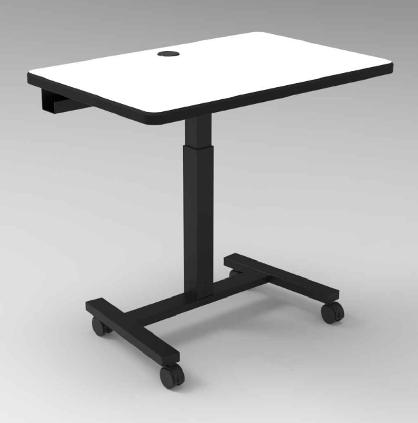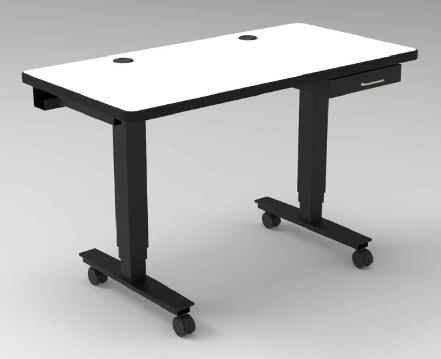 Mobile Presentation Stations
(D&D Integrated Solutions)
Pneumatic Adjustable Tables:

Two Sizes 24 x 36" and 24 x 48"
Grommet Holes and Cord Management Tray
Utility Drawer for remotes, pens, pencils, etc.



Used with:

Task Stool

Document Camera

Laptop

Interactive LED Display or TV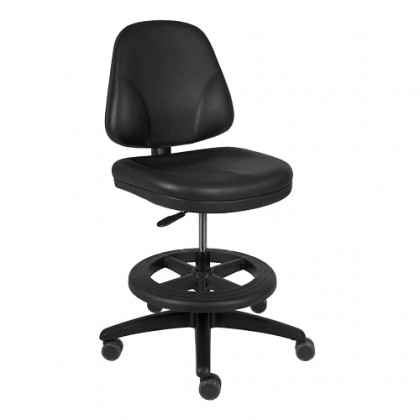 Presentation Station Task Stool
(OM BC-47)
4. AV & Visual Communications
Walls that talk using audio, video and visuals with a variety of fixed and mobile displays, and boards
4.a) AV - Classroom Audio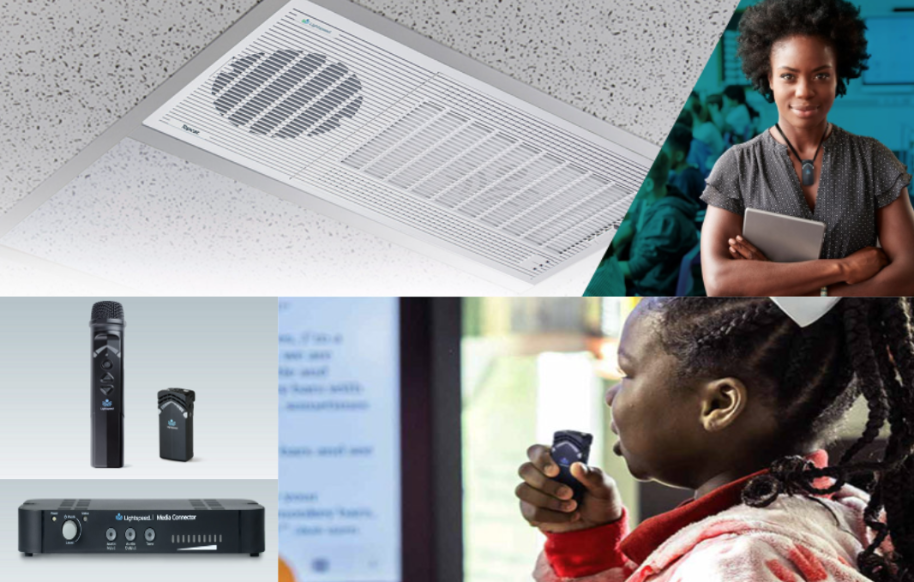 Classroom Audio System
(Lightspeed Tomcat Ceiling Amplifier/Speaker System, 2 Wireless Microphones and Media Connector)
Microphones shown far left - Sharemike for students and Flexmike w/lanyard worn by teacher
4b.) AV - Interactive Display Or Flat Panel TV with Mobile Stand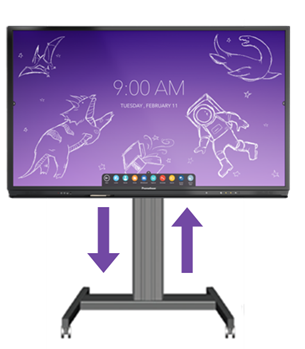 Interactive Display
(Promethean Interactive Display)
Sizes: 70", 75", and 86" w/ Adjustable-Height Mobile Stand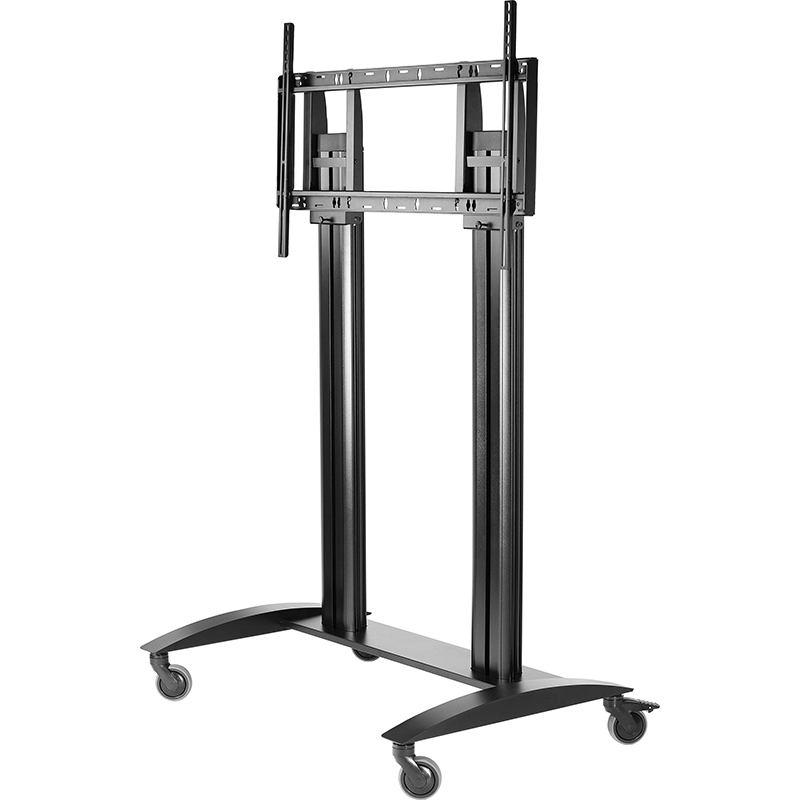 Mobile Stand
(Smartmount Flat Panel TV Cart)
4c.) Visual Communications - Wall Mounted Glass Boards and Mobile Whiteboards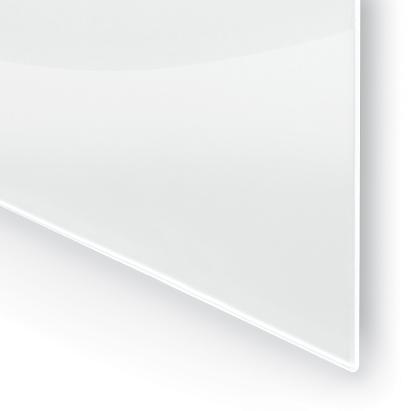 Wall Mounted Glassboard
(Mooreco Insight)
Low Iron (Bright White) Magnetic Glass Boards 4' x 8'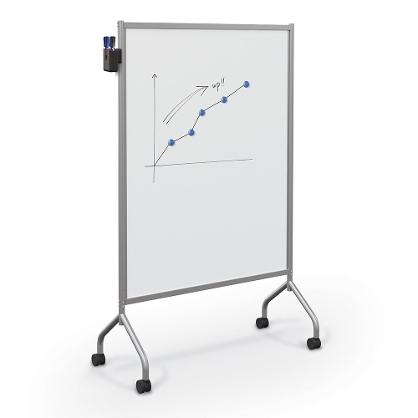 Mobile Magnetic Whiteboard
Size: 38.5″W x 54″H Whiteboard -
Doubles as a partition
5. Mobile Storage
Bin and cabinet places organized and optimized for stacking and mobility. Personalized storage for each student, and for the
variety of room materials, books, tools and technology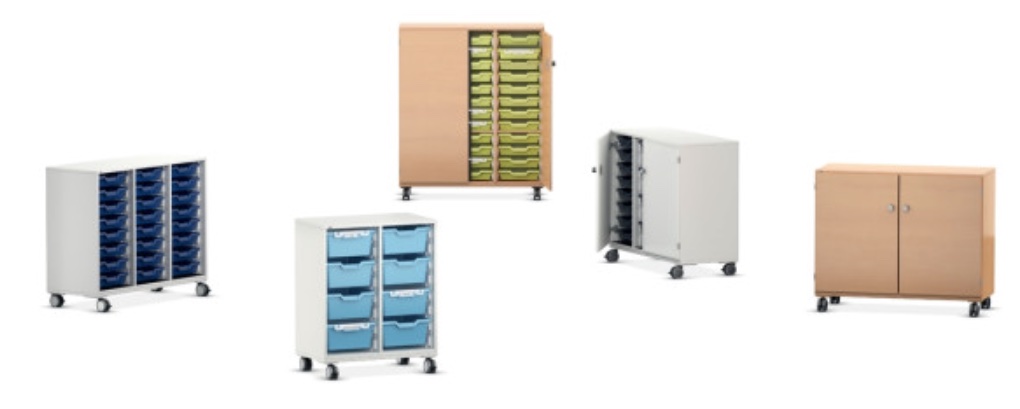 Mobile Bin Cabinets
(VS Serie 800-Mobile )
5b.) Mobile Swing Door Cabinets

Mobile Swing Door Cabinets
(VS Serie 800-Mobile )

No part of this publication may be reproduced, distributed or transmitted in any form or by any means, including photocopying, recording, or other electronic or mechanical methods, without the prior written permission of the publisher, except in the case of brief quotations embodied in critical reviews and certain other noncommercial uses permitted by copyright law. For permission requests, write to the publisher, addressed "Attention: Permissions Coordinator,"
at the address below.
Groupwerk Publishing
Skinner Building
1326 Fifth Avenue | Suite 438
Seattle, WA 98101