IKEA Hack - Couch on Casters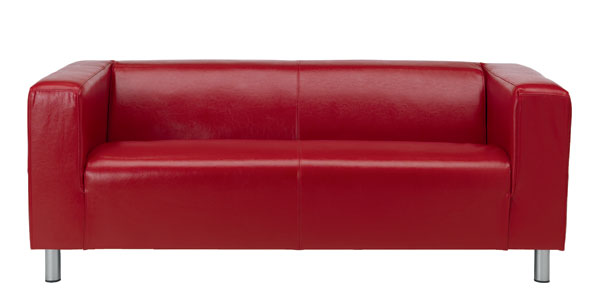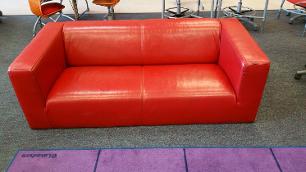 Here is an idea I've had for a long time. I've always wanted to put heavy duty casters on a couch for a classroom and an opportunity finally presented itself. About 7 years ago, I helped
Washington Elementary in San Diego
create cozy furniture spaces in their library and several model classrooms. I'm back this year to help the school again and found one of the red IKEA Klippan couches (that I had previously ordered) hanging out in a hallway with all of the legs missing.
After 7 years, the couch was still in great shape (minus the legs) and so I talked with Mr. Mack, the Custodian and he had no problem moving it to a classroom. He also showed me the leg pieces (2 of which had the plastic glides at the bottom of the legs torn off). So, I jumped at the chance at fixing this couch by putting it on casters and into
Cheryl David's 3rd grade classroom
.
Here is my hack with instructions.
The IKEA Klippan couch comes with 4 metric screw-in legs (M8x1.25x44.5). I first searched on the Internet for a threaded screw type caster but found only plastic casters for chairs with the metric threading in the U.S. I gave up on that tack and decided to use heavy duty plate casters with holes that I could drill and screw in myself.
I wanted something in the range of a 200 lb. load rating per caster that would hold up over time with these energetic kiddos .
I was scheduled to meet with staff on a Friday. I didn't have time to wait for my usual two-day Amazon order, so I just went to Home Depot.
I purchased two 3" brake (locking) Everbilt Plate Swivel Soft Rubber Casters and two Everbilt Swivel 3" Soft Rubber Casters. Both had a load rating of 175 lbs. per caster. I put the locking casters, one in front and one in back on opposite sites of each other so that the couch would stay in one place on the carpet (when the teacher needed it to stay). I discussed this with Cheryl as she was excited to be able to easily move the couch to different places in the room.
I pre-drilled the holes and used 7/16x1" hex screws to secure the casters.
I also found out why the couch made it to the hallway. One of the corner frame pieces that supports the couch frame leg came loose and the leg probably buckled. I secured the triangular wood piece that supports the legs back with some wood screws.
Here are a series of pictures that visualize my process and outcome above.