Here, a K-12 Learning Commons is a one of a kind hybrid of a library, computer lab, workshop, coffee house and hotel lobby.
It transforms a traditional library from rows of books and study tables into various activity hubs, that may include but are not limited to:
Cultural Hub;
Informational / Inquiry Hub;
Project-based Hub, and;
Professional / Community Learning Hub.
A Learning Commons is designed with fixed and mobile learning zones, that may include but are not limited to:
print and digital media resources;
technology hardware and software;
tools and making materials, and;
hard and soft furniture.
Note - You may also see the phrase, "Library Learning Commons" as many schools may want to retain the word, "Library" in their title. Here, we are going to just use the term, Learning Commons.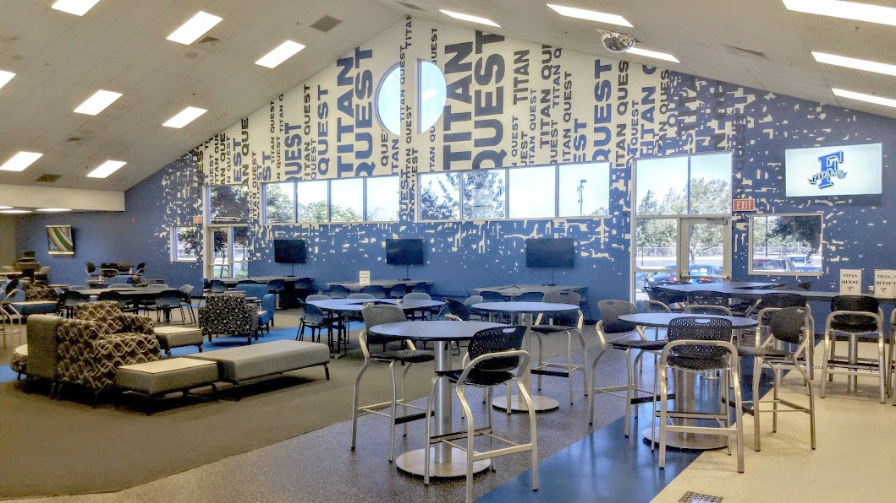 Overview - The Learning Commons is the School's Cultural Hub
The Learning Commons replaces "Shhhh" in the library with both formal and informal school and community activities. By design, it's the definitive CENTER of activity for the school. The Learning Commons harkens back to the large village bonfire or can be a number of smaller campfires; it's the gathering' place for individuals, small groups and large groups to learn and/or socialize.
It is in this spirit of community where school culture is born, nurtured, and sustained.
Gathering Space
Personal Spaces
Collaborative Spaces
Showcases for School Curriculum/Activities
Cafe
Community Meetings
Informational / Inquiry Hub

Libraries have been defined first in their role of supporting traditional literacy that has evolved into our digital age with information literacy, media literacy and digital literacy. In the twenty-first century, the Learning Commons embraces both analog and digital media and provides the school a flagship of transliteracy for all students and staff.
Library Books and Reference Materials
Online Resources
Desktop Computers
Genius Bar/Student Technology Support
School Website and School/District Online Resources
IT Collaboration /School Technology staff /
Digital Citizenship
Digital Space - Part III of this book
Project-based Hub

One of the most exciting developments that progressive Librarians have brought into their domain is the entire concept of project-based learning. The Learning Commons is now a place with dedicated spaces for technology and tools where students can inquire, design, tinker and make all kinds of things. The Learning Commons is often the place where the first sparks of integrated studies begins with the Librarian and teachers coming together for co-teaching a lesson or unit of study.
Co-Teaching - gateway to Integrated Studies
Desktop Computers Software - creation apps
Production Studio
Professional / Community Learning Hub

In the last decade K-12 education has progressed past staff and professional development to professional learning. Hopefully, most of top-down district central office agendas have been replaced with site-based curriculum and pedagogical strategies for the adults leading the learning. This shift has helped transform the 'meeting mindset' to a professional learning community (PLC).
Learning Commons' are often designed so that the main floor furniture and A/V screen display technology are mobile and modular that can be repurposed to hold a large audience from the entire staff to a local community meeting. The Learning Commons is often the perfect space for the PLC to have the large bonfire or breakout smaller campfires. Larger presentation A/V displays also play a role to effectively mirror two or more visual images as one, or breakout single displays for smaller group work.
Learning Standards / Content
Constructivist Model
Co- Teaching
Integrated Studies
Curriculum Mapping
Community Group Meetings
Mobile and Modular Furniture
LED/Video Screen Displays
Learning Zones-

In the previous chapter on learning studios I talked about creating micro learning spaces within the traditional classroom. T
he original design of most school libraries provides the largest interior physical space to be designed into various spatial zones to organize this hubbub into eclectic and purposeful groups of learners.
Learning Commons zones may include, but are not limited to the following areas:
Gathering Spot
First stop for a class or group entering from the outside. The jump off with maybe some logistics or initial instructions by the Librarian or Teacher before students disperse to different zones.


Entry soft benches and furniture


Charging Zone - Power and USB stations


Kiosk/Digital Signage Display Spaces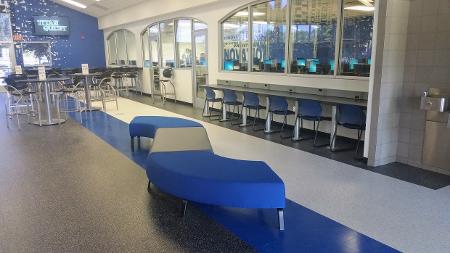 Circulation Desk and/or Tech Support Bar
Book check out


Mobile Devices check out


Student run tech support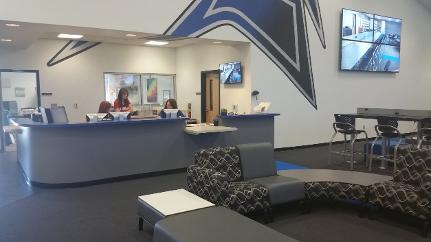 Bookshelves - Fixed Wall Mounted
Bookshelves moved to walls to maximize floor space zones and secured to walls for general and earthquake safety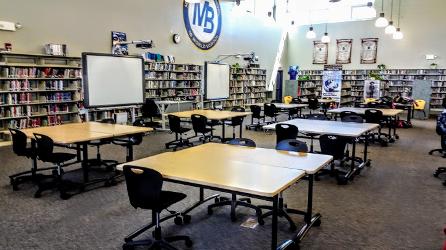 Bookshelves - Mobile
Mobile bookshelves with heavy duty casters for flex space movement


Mobile bookshelves must be low to mid-height level


Feature both straight and curved models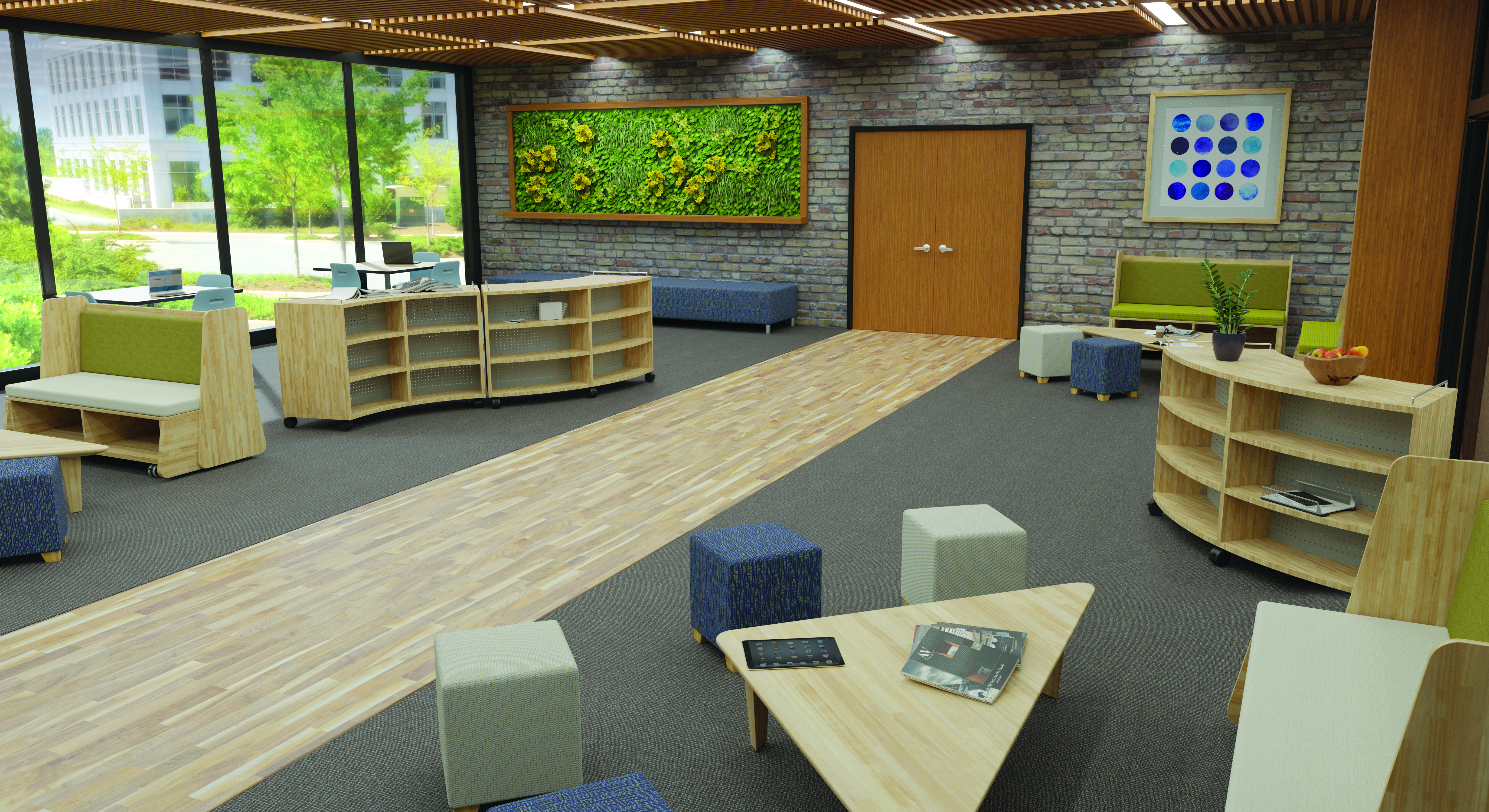 Cafe - (Secondary Schools) - snacks allowed or not allowed
Sometimes part of Gathering Zone


Sitting and Standing Cafe Tables with Stools


Booth Seating


Usually a non-carpet zone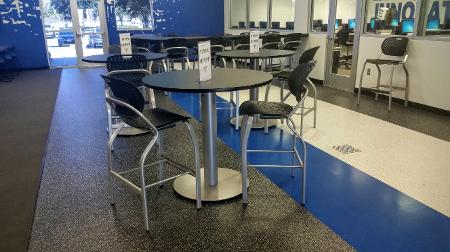 Soft Furniture - Lounge Seating
Single Lounge Seat


Double Lounge Seat (still often called a love seat)


Triple Lounge Seat (or simply, a couch)


Soft Stools, Benches, Ottomans
Personalized Nooks
Sprinkled throughout the Learning Commons


Individual and Small Group Study Spaces


Occasional Tables


Rocking Chairs


Mid and High back Cove Seating


Booth Seating


Privacy Pods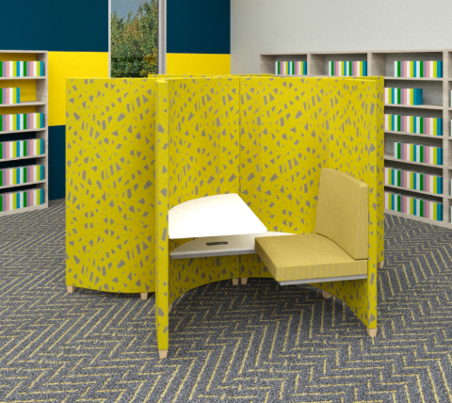 A/V Huddle Tables -
Sprinkled throughout the Learning Commons


LED Flat Panel Screen (typically 50" - 75") mounted on a mobile screen cart


Two 24"x60" Rectangle Flip and Nest Tables


One 48" Quarter-Round Flip and Nest Table


Tables may have power grommets


4-6 Task Chairs or Stools (if tables are stand height)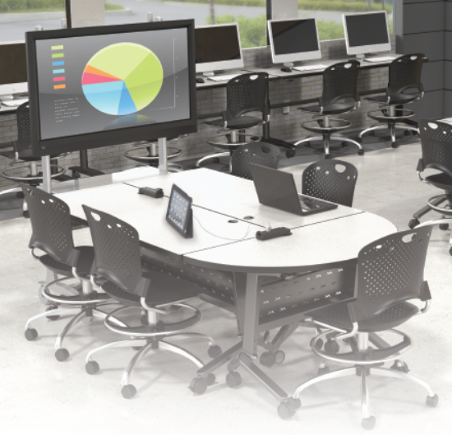 Geometric Teaming Tables
Sprinkled throughout


Geometric Tables w/ power that come together for group work


Tables and chairs should have caster wheels for easy repurpose of space and often are housed on the main floor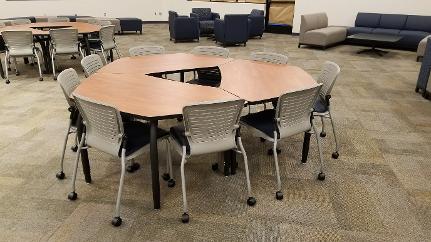 Desktop Computers / Media Studio
Computer Tables with cord management


Desktop computers with essential processing capabilities and large computer screen displays


Adobe Suite of content creation software apps


Cad/Cam software apps


Microsoft Office Suite of software apps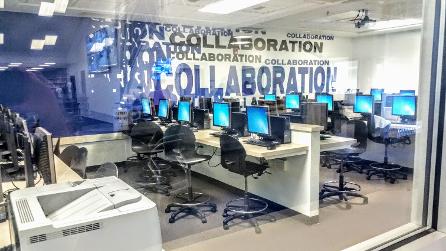 Media Campfire
U Shaped and two-tiered hard and soft seating booth. Top Tier usually has stool seating with a flat work surface. The lower tier is soft seating with no built-in work surface.


Usually used with fixed wall mounted AV displays


Need to consider this is a heavy piece of furniture that is not mobile. Need to find a fixed space to place in the Learning Commons.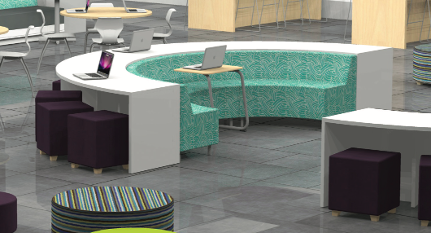 Makerspace
Tools, Technology and Materials for designing, assembling and building things


Tables and Stools appropriate for making projects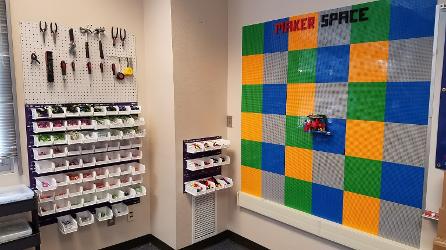 Classroom
Space for a whole class of students


Space for groups of students from other classrooms to work on a project


Mobile and Modular desks and chairs to create a variety of large or small group set ups


Tablet Arm Chairs w/ casters


Nesting Tables w/Task Chairs


AV Fixed Wall Mount Displays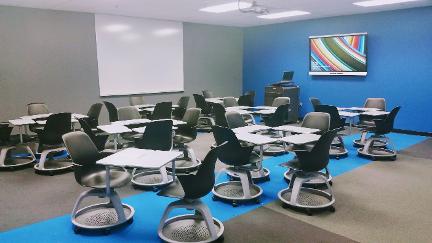 Learning Commons Resources

No part of this publication may be reproduced, distributed or transmitted in any form or by any means, including photocopying, recording, or other electronic or mechanical methods, without the prior written permission of the publisher, except in the case of brief quotations embodied in critical reviews and certain other noncommercial uses permitted by copyright law. For permission requests, write to the publisher, addressed "Attention: Permissions Coordinator,"
at the address below.
Groupwerk Publishing
Skinner Building
1326 Fifth Avenue | Suite 438
Seattle, WA 98101