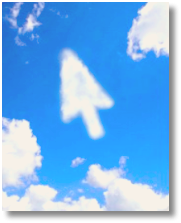 Personalized digital space design is the orchestrated use of digital devices, web apps and services that help accomplish student-centered tasks in face-to-face and online learning environments.
Overview
As mobile devices and web applications have taken the world by storm, cloud computing has created a centralized personalization and socialization of information. This personalization and socialization disrupts traditional K-12 practices with the teacher leading all the action at the front of the classroom.
From a historical perspective, personal computers in most K-12 schools from the 1980's - early 2000's were decentralized- meaning they were stand-alone computers with a local hard drive. Computers in schools therefore needed to be clustered together in the same room, all having the same software to be used in a teacher-centered environment. Much like the teaching and learning of those times, the computers were part of a learning environment that was contained within that space.
It wasn't until cloud computing services came along in the early 21st century to centralize storage, applications and consumer services all together, over the Internet. This centralization through the metaphor of clouds as connected Internet servers allows people to personalize their own content USING any device they like- phones, laptops, tablets desktop computers, and TV's. By 2006, computer hardware was no longer self contained with software and storage, but now a means to getting to the web apps and services in the clouds.
Within the last decade, mobile devices working within a centralized network have in effect infiltrated the traditional school curriculum by sheer cultural osmosis. For teachers and students, cloud computing has created new options to organize their own consumer IT for content creation. Teachers and students can now design much of their own digital space in the cloud rather than just use what a school district provides or tells them what they can use for devices, applications, and services.
Currently, we live in a time where even a larger picture of personalized technology is emerging. This personalization is evolving into a plethora of devices and things that are now distributed around one's home, school, work, and community at large while simultaneously being connected with the centralized cloud. These devices are now commonly referred to as the Internet of Things (IoT) with artificial intelligence (AI) of interconnected devices learning and interpreting data in a location or environment.
With technological innovations that both centralize content and simultaneously decentralize functions and appliances like in smart homes, or sensors in self-driving cars, students will continually have more control using technology that will deeply personalize that use as their own 'digital space' wherever they are.
In the iterations of this ebook over the last decade, I now focus less on what specific digital devices students are using, but more on their access to cloud apps and services as essential tools for learning in an evolving digital world.
Digital Devices
From 2009-2018, I devoted a whole chapter to this topic. I have since removed it from the book as I now largely feel that it really doesn't matter what device a child or young person uses to consume or create content. Our time in the 21st century has proven that children simply adapt to the devices they have access to.
I'll just include my summative thoughts from that chapter here and then move to the more important matter of students and teachers using web apps and services to create content in their daily lives.
With digital devices, it commonly breaks down from bigger to smaller. We currently have two general types of sensory input. One, what we see in the size of the digital screen. And two, what we touch to control what we see and hear on the device (or voice activate to control). Very simplistic but rather complicated when determining for example, the merits of tablets versus laptops and laptops versus desktop computers for different tasks and age groups of students.
In our current discourse, the public at large debates the age when children should carry the #1 personal device we currently call the smartphone. Time has demonstrated that line gets younger and younger in our digital world.
I recommend we always focus on age-appropriate learning activities first. Then we can determine what current device could best serve learners through its design to help complete those learning activities. If anything, in the past fifteen years we have learned that one size doesn't fit all and school districts are going to need to be very flexible in managing the variety of devices in their schools and on their networks.
I'll finish here with the first draft paragraph I wrote below in 2009 that motivated me to write the former chapter on digital devices in the first place. It was based on my direct experience working in a large urban school district-wide technology deployment.
Many educators have experienced the tremendous waste of using an institutional digital device deployed across a school district. They watch as many of these devices collect dust or lay in disrepair in classrooms because the selected device's form and function did not sync with current classroom instructional practices. My hope is that decision-makers in K-12 education will learn from their or other district's mistakes, and be reminded to "plan for learning" as the beacon in their technology evaluations and purchasing processes.
Mobile Devices and the March of Technology
To create some perspective of why I eliminated the Digital Devices chapter, it will someday come down to student personal preference. That will be the measure as we enter the 2020's and the question- Will students be given the learner-centered choice to choose their device or devices at school?
Here (to the right) I will try to showcase the moving target of devices as technology hardware will always change every few years.
What to see in young people's hands in school soon - Foldable Phones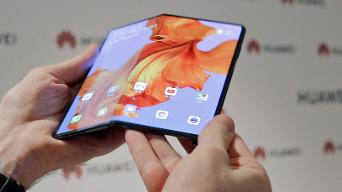 Connect with me
I would like to hear from you on several fronts. One, if you read my book I would love any feedback you would like to give to me. Two, if you need any consultation with any public or private school learning spaces, I would be happy to consult with you for FREE. And last, if you would like to have me speak at a conference or meeting regarding learning environment design, please contact me to discuss.
You can see my bio at the top of the menu bar above and
here is my contacts form
. Thanks for taking the time to read my book, and/or looking at my resources.

No part of this publication may be reproduced, distributed or transmitted in any form or by any means, including photocopying, recording, or other electronic or mechanical methods, without the prior written permission of the publisher, except in the case of brief quotations embodied in critical reviews and certain other noncommercial uses permitted by copyright law. For permission requests, write to the publisher, addressed "Attention: Permissions Coordinator,"
at the address below.
Groupwerk Publishing
Skinner Building
1326 Fifth Avenue | Suite 438
Seattle, WA 98101