Mobile Height-Adjustable Sit/Stand Presentation Station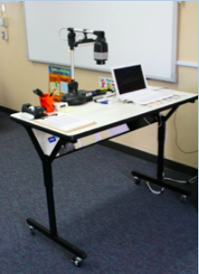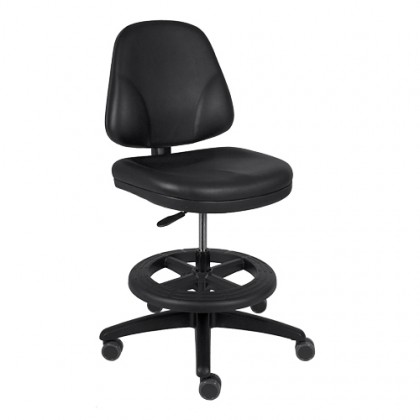 In 2010, I created a design specification for a
multimedia presentation station
for 7,000 teachers in
San Diego Unified's i21 Interactive Classroom
bond initiative for every classroom, library and lab.
The overwhelming success of that 24"x 48" standing table with cord management that included a padded task stool became a field-tested district standard. The original tabletop design had a matte white laminate finish for color balance with a mounted document camera and teacher laptop that in turn connected to the classroom 86" interactive whiteboard, video and audio system.
In my opinion, This tabletop configuration gives teachers an optimal flexible work surface, not too big or small for the size of an average classroom. The table's limitation is that it came with a fixed-height adjustable hex-screw system. You could set the table for either sitting or standing, but from then on no one was going to spend the time to flip the table over and change it.
Proposal for a new Sit/Stand Teacher Presentation Station
In the last several years, many office environments have become even more flexible with the popularity of self-adjustable crank, pneumatic, and electric height-adjusted controlled tables. Phrases like, "Sitting is the new cancer," and "Standing is the new black" are especially appropriate for the hours that students have to sit for a 6+ hour school day. Teachers also need new sit/stand options as many teachers have removed their 25 year-old wooden teacher desk and sent it to the District furniture graveyard.

In the section below, I have created general design specifications for a new- Self-Height Adjustable Sit/Stand Teacher Presentation Station.
General Design Specifications for a Mobil Self-Adjusting Sit/Stand Presentation Station
The presentation station is a non-electric pneumatic or crank self-adjustable table

The presentation station is a sit to stand solution where control of the up and down is easily operated by one person within the general range of 28″ to 46″ of sit to stand adjustability

The table top depth is 24" D X 48" W - This is the key element that many manufacturers don't get. This is not a lecture environment, so a little lectern or small "media" cart is not the solution when a teacher needs enough space to use a doc cam, laptop and spread out their lesson materials.

The table top is HPL laminate with options for all laminates

Markerboard Laminate

Matte White finish for Doc Cam color balance

Standard and Custom Laminate options

The table top Edge is Black T-Mold

Two Grommet Holes with plastic sleeves on the left and right of table (back side)

Modesty Panel on back side of table

Cord Management System on back side of table (see examples of accessories)

25 ft. Mounted Power bar with 6 outlets (3 prong power plug)

Easy access trough could be part of modesty panel

Charging Unit - An alternative to the cord management system would be a charging unit mounted underneath the table so that the table could in effect be charged at night, and then used as a cordless station anywhere in the room. The teacher could plug their laptop, doc cam or other devices like a cell phone into the table's power unit directly.

Locking Pull out Tray on Front side of table

4- Double wheel hard casters - 2 locking casters



Teacher Task Stool

Pneumatic lever adjustable Task Stool with black vinyl padded seat and back

Height adjustable (within the general range) 23"-33" or TBD

Use the Office Master BC47- with Black Vinyl Upholstery as a model example
Justification for the Above Specification
In the past twenty years, I've seen a lot of different presentation station furniture. Here are two current versions marketed as teacher workstations that are less versatile to the specification above.
Two-tiered presentation desk systems that include a standing lectern attached to a table for sitting. This option provides a sit-stand solution, but in my option is too large of a footprint for the average classroom.


The second option is what I would describe as "the hospital exam room media cart." For me it's just too small for the average teacher to lay out all their stuff for a lesson. This option will become more obsolete as table top video projectors are being replaced by LED flat screen displays or teachers using a tower w/ separate keyboard based desktop computer.
In any event, it's always good to get teacher input BEFORE you buy what you think is best, including my opinions here.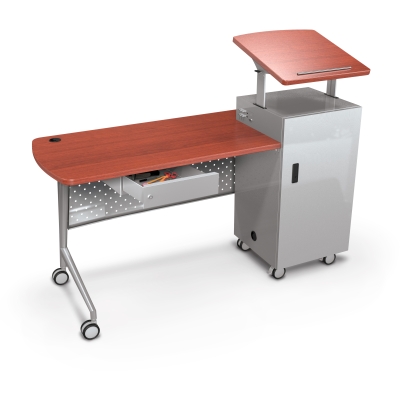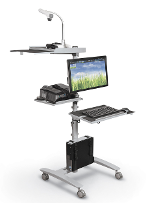 A Working Example
Not perfect without the grommet holes and cord management, but getting there as an adaptation of my above design spec used in an elementary school makerspace I designed for Maranatha Christian Schools in San Diego.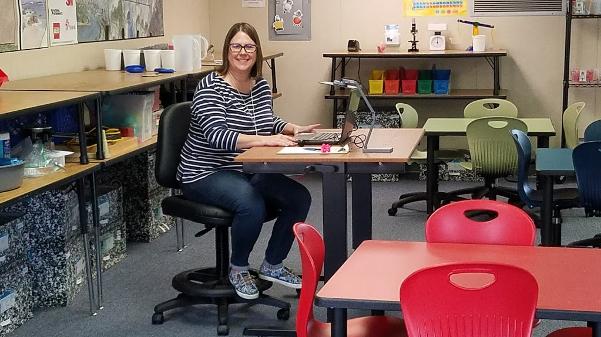 Luxor STANDCF48-BK/TK - 48″ Crank Adjustable Stand Up Desk with Casters (Teak Top w/ Black Frame)
Overall dimensions of 47.25″W x 29.5″D with variable height between 29.5″- 45.25″H
Meets ANSI/BIFMA standards
Crank allows for effortless adjustment from sitting to standing
Durable steel frame with powder coat paint finish
Four 3″ furniture grade casters, two with locking brakes, for easy maneuverability and stability
Max Weight Capacity = 154 lbs.


Working Example 2
So, here is a good alternative if the 48" desk is too wide. This table top is 40" wide with a smaller footprint, yet still big enough to have a laptop and doc cam!
DIMENSIONS:
Overall: 39.375"W x 23.625"D x 30"-45.25"H
Desktop: 39.375"W x 23.625"D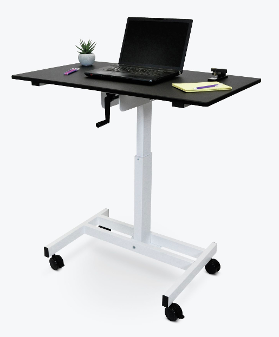 © 2009-2022 DG McIntosh. All rights reserved.
No part of this publication may be reproduced, distributed or transmitted in any form or by any means, including photocopying, recording, or other electronic or mechanical methods, without the prior written permission of the publisher, except in the case of brief quotations embodied in critical reviews and certain other noncommercial uses permitted by copyright law. For permission requests, write to the publisher, addressed "Attention: Permissions Coordinator,"
at the address below.
DG McIntosh Publishing
Skinner Building
1326 Fifth Avenue | Suite 438
Seattle, WA 98101